I was born and raised in the US. I attended university to become a physical education teacher, however that all changed when I met my Canadian wife in 2005.
In 2008 I moved to Canada where I worked at Goodlife Fitness for a few years where I learned the sales, management, and business skills that paved the way for me to start my own business. I dabbled in a few home renovation jobs with some friends where I discovered that I had a love of and a knack for painting and finishing.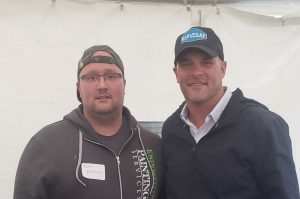 I started my own company in 2013 on a part-time basis, and by 2015 I took Esposito's Painting Services full time.
My vision is to continually train and invest in the right products, tools, and skills for myself and staff. We want to be known for top of the line craftsmanship that is delivered on schedule and budget. We pride ourselves on our open communication with clients and the ability to prioritize projects based on needs and timeline. We often work holidays, weekends and evenings when projects demand, to ensure that our clients are happy and projects are kept on schedule. I love what I do every day and wouldn't change it for the world!